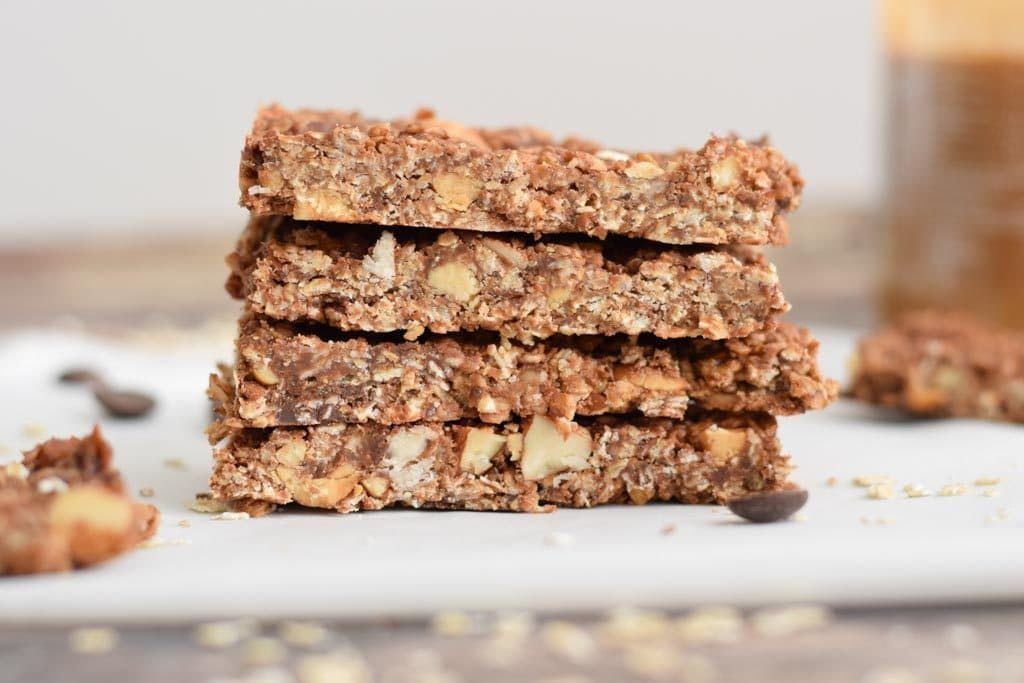 Low FODMAP Energy Bar
INGREDIENTS:
2/3 cup Almonds (roasted or to chopped)
2/3 cup Natural no salt or sugar Peanut Butter
1 1/4 cup Rolled Oats
2/3 Cup Maple Syrup
1/3 Cup Dried Unsweetened Cranberries
1/3 cup Dried Banana
2/3 cup Quinoa Flakes
2/3 cup Puffed Brown rRce
1 1/4 TBS Chia Seeds
1 1/4 TBS Sunflower seeds
Options: Add Dark Chocolate Chips
PREPARATION:

1) Line a baking tray with parchment paper set aside
2)In a small sauce pan, heat peanut butter and maple syrup over low heat, stirring until well combined
3) In a large bowl, combine dry ingredients,. Pour peanut butter and maple syrup mixture over dry ingredients and stir until well combined.
4) Transfer mixture into prepared tray, pressing down with slightly wet hands to ensure mixture is flat and lightly packed together.
5) Refrigerate-for al least 1 hour before gently removing from tray and slicing into bars.
NOTE: For nut free — replace peanut butter with sunflower seed butter and take out almonds. For gluten free — use Trader Joes Gluten Free Rolled Oats or quinoa or millet flakes. Store in an airtight container in refrigerator or freeze. FROM: DietVSDisease. FODMAPS are a type of carbohydrate that some people's bodies don't process well. FODMAP stands for Fermentable Oligo-, Di-, Mono-saccharides and Polyols. Low FODMAP foods are low in the FODMAP and thus easier to digest and healthier for those with digestive issues. A great resource is: "The Low FODMAP Diet for Beginners" Mollie Tunitsky.