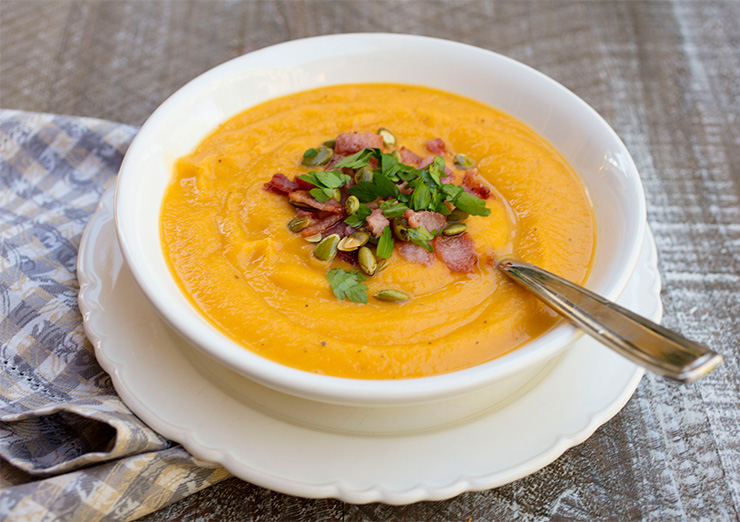 Roasted Carrot & Pumpkin/Squash Soup
INGREDIENTS:
2 TBS Extra Virgin Oil (or water in an non-stick pot)
1-2 cups roasted pumpkin or squash (summer or winter)
4 cups of Vegetable Stock (vegetable —homemade or use lowFODMAP stock cubes
2 TBS garlic — minced
5 Carrots —peeled and chopped
1 TBS Mustard Seeds
2 tsp Sea Salt
1/4 tsp Black Pepper
1 tsp Turmeric
1/2 tsp Cardamon
1/4 tsp Chili Powder (optional)
2 cups of Water
PREPARATION:

Preheat oven to 410 degrees F. Place cut pumpkin (or squash) ad carrot on a lined tray — mix in the garlic and 1 TBS of the olive oil or water. Toss to coat. Roast for 30-35 minutes.
While the vegetables roast, heat a medium pot with water and/or oil. Add the mustard seed and spices , cook stirring for couple of minutes or until aromatic and mustard seeds pop.
Add the 2 cups of water and stock. When carrots and squash are roasted —add them. Bring pot to a boil, reduce heat and cook covered for 15 minutes. then uncover and leave to cool slightly for 15 minutes.
Add 1/2 the mixture to a blender and blend —repeat with the remaining 1/2 or leave some of the soup chunky and add with the puree soup. FROM: DietVSDisease. FODMAP foods are a type of carbohydrate that some people's bodies don't digest well. FODMAP stands for: Fermentable Oligo, Di,- Mono-saccharides and Polyols.