Ingredients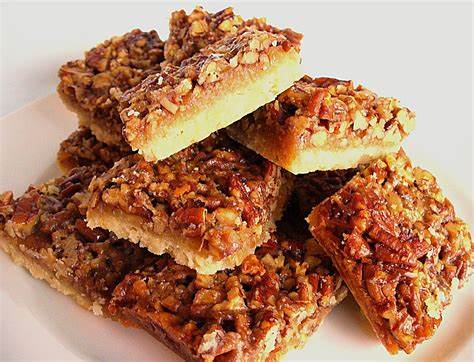 For the crust:
1 cup rolled oats
1 cup pecans
1/2 cup almond flour
2 tbs. cinnamon
1/2 tsp. salt
6 dates, pitted
Water as needed
For the caramel:
15 dates, pitted
3 tbs. water
1 tsp. vanilla extract
1/2 tsp. salt
For the topping:
Directions
STEP 1
Line an 8×8 pan with parchment paper.
STEP 2
Add all the crust ingredients except for the dates to a food processor. Blend until a flour-like consistency is reached. Add the dates and process until the mixture is sticky and holds together. If needed, add one teaspoon of water at a time until the mixture can hold together.
STEP 3
Press the crust mixture into the bottom of pan and set aside.
STEP 4
Combine all the caramel ingredients in a food processor and blend until smooth. Add more water if needed to reach a liquid, caramel consistency.
STEP 5
Add the caramel to your crust layer and top with crushed pecans.
STEP 6
Chill in the freezer for 25 minutes before cutting and serving. Store leftovers at room temperature.
 Store in the refrigerator until ready to eat.  EnJOY!
www.soletosoulcoaching.com