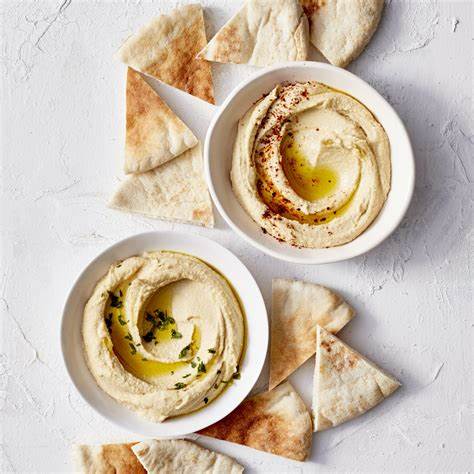 Ingredients:
1 pound dried chickpeas
2 teaspoons baking soda, divided
½ cup tahini
¼ cup fresh lemon juice (from 2 lemons) 
4 garlic cloves
1 ½ tablespoons kosher salt
1 ½ teaspoons ground cumin
3 tablespoons extra-virgin olive oil
Ground sumac and chopped fresh flat-leaf parsley, for garnish
Warm pita bread, for serving
Directions:
Step 1
Place chickpeas and 1 teaspoon of the baking soda in a large saucepan. Add water to cover chickpeas by 3 inches. Cover and let stand at room temperature 8 hours or overnight.
Step 2
Drain and rinse chickpeas thoroughly under cold running water. Return chickpeas to saucepan, and add water to cover by 2 inches. Add garlic and remaining 1 teaspoon baking soda. Bring to a boil over high. Reduce heat to medium-low; cover and simmer, occasionally skimming and discarding skins that float to the surface, until chickpeas are very soft, about 1 hour and 30 minutes. Drain.
Step 3
Process hot chickpeas, tahini, lemon juice, garlic, salt, and cumin in a food processor until very smooth and aerated, about 4 minutes. With food processor running, drizzle in oil through food chute until combined. Transfer hummus to a medium bowl; press plastic wrap directly on surface. Cool slightly, about 30 minutes.
Step 4
Spread hummus in a shallow bowl, and, if desired, sprinkle with sumac and parsley. Serve with pita bread. Store leftover hummus in an airtight container in refrigerator up to 2 weeks.