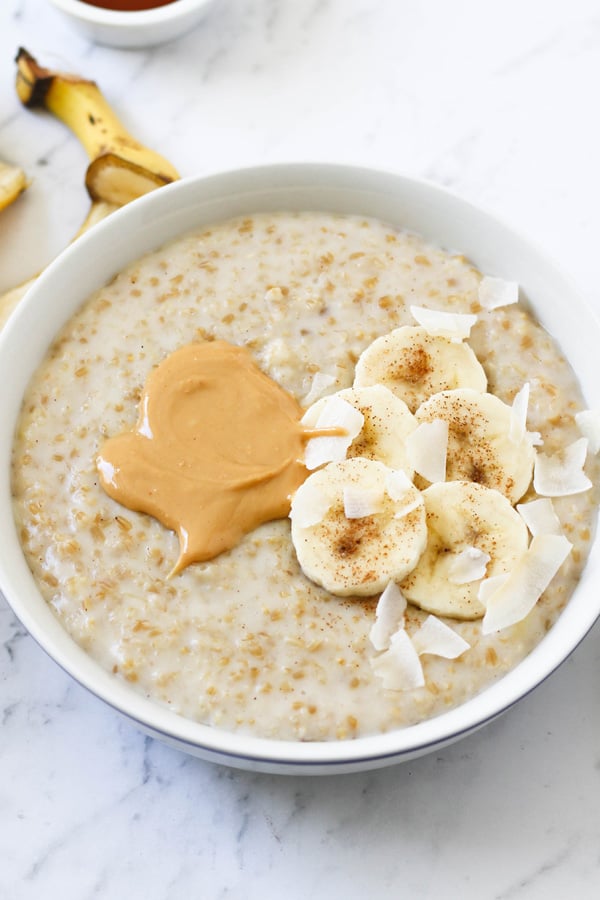 BANANA STEEL-CUT OATS
INGREDIENTS:
1 ripe banana, smashed in its own skin
3 cups of water
1 teaspoon of vanilla
1 cup of steel-cut oats (GF from Trader Joe's)
1 tablespoon chia seeds or ground flax seed (or both)
1/4 teaspoon cinnamon
1/8 teaspoon ground nutmeg
1 kiwi, peeled and sliced
1/4 cup strawberries or berries of choice (fresh or frozen) sliced.
Option: Add a tbsp of nut-butter
PREPARATION:
In a small bowl over medium heat, mix the smashed banana (no skin), water and vanilla.
Add the steel-cut oats, bring to a boil over and reduce the heat to a simmer. Stir occasionally so the oats don't stick to the bottom. Cook for 15 to 20 minutes, depending on how chewy you prefer your oats. If you like the smoother oats, cook a few minutes longer. Add the chia seeds (flax too if you want), cinnamon, and nutmeg and stir. Serve in bowls topped with kiwi and strawberries. These oats are surprisingly sweet alone. FROM: Engine 2 Seven Day Rescue.