Ingredients: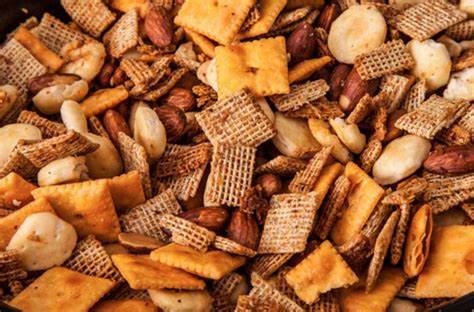 1 cup whole-grain flake cereal (OR GF).
½ cup of raw cashew
1 tbsp avocado oil
2 teaspoons curry powder
¼ teaspoon cayenne
¼ teaspoon sea salt
½ cup freeze-dried edamame OR roasted.
NOTE:
Left Overs:  Keep in an airtight
Container.
Less spicy hot: use less spice.
Add Flavor:  mix in coconut shavings.  Use flaked cereal with cranberries. 
Double the recipe for a party! 
Directions:
Preheat oven to 375.
In a medium to large bowl mix all ingredients, except the edamame (I mixed my edamame (roasted).
Pour onto a parchment paper-lined baking sheet and bake for about 8 minutes, stirring halfway through. Toss with the edamame and serve.
From: The Superfood Swap
www.soletsoulcoaching.com