Cheesy Broccoli Soup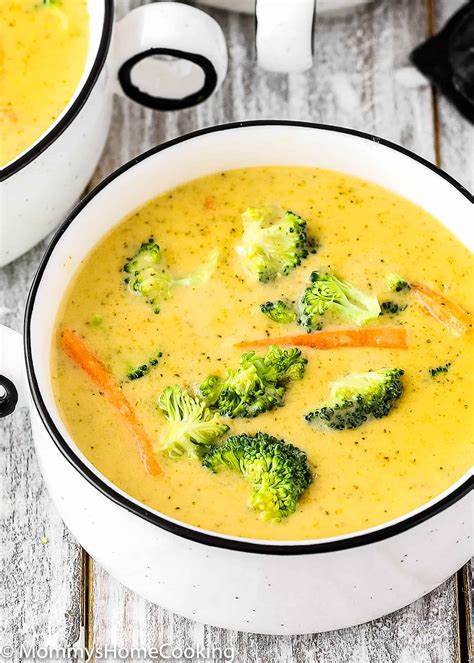 Ingredients:
1 medium carrot, diced
1 lb peeled + diced Yukon gold potatoes
4 to 5 tbsp nutritional yeast
3 to 4 tsp lemon juice
2 tbsp water or olive oil
¼ to ½ tsp smoked paprika
½ to 1 tsp salt, plus more to taste
2 tsp garlic-infused olive oil
1 cup green leek tips, roughly diced
1 small zucchini (ends trimmed), diced
3 cups chopped broccoli florets
4 cups Low FODMAP Broth
¼ cup raw walnuts
Fresh cracked black pepper
Directions:
Place the carrot and 8 oz of the potatoes in a medium saucepan and cover with water. Bring to a boil, then reduce the heat to medium-low and cook for 10-15 min, until tender. Drain and place in the base of a blender alongside 2 tbsp of the nutritional yeast, 2 tsp of lemon juice, the water, paprika, and ½ tsp salt. Puree until very creamy and smooth, scraping down the sides as needed. The cheezy sauce should be very thick, but if it's too thick to blend, add in a tablespoon or two of water or broth. Season to taste and place in a large saucepan.
2. Wipe out the medium saucepan used for the carrots and potatoes. Heat the garlic-infused olive oil in the saucepan over medium heat. Add the leek and cook for 4 min, stirring occasionally, then add in the remaining 8 oz of potatoes, the zucchini, and the broccoli. Cook for an additional 5 min, stirring often to prevent sticking.
3. Add the broth, walnuts, 2 tbsp of the remaining nutritional yeast, and 1 tsp of the remaining lemon juice. Cover with a tight-fitting lid and simmer over medium heat for 15 minutes, until the vegetables are tender.
4. Transfer the zucchini-potato mixture to the base of a blender and puree until creamy and smooth (you can also enjoy it chunky just pulse a few times in the blender/food processor for the desired consistency), then add to the saucepan with the cheezy sauce. Stir together and season to taste, adding more freshly ground pepper, salt, lemon juice, nutritional yeast, and/or smoked paprika as desired.
5. Enjoy it as is or with sourdough bread. Leftovers freeze great for a quick meal.
FROM:  Fiber Fueled