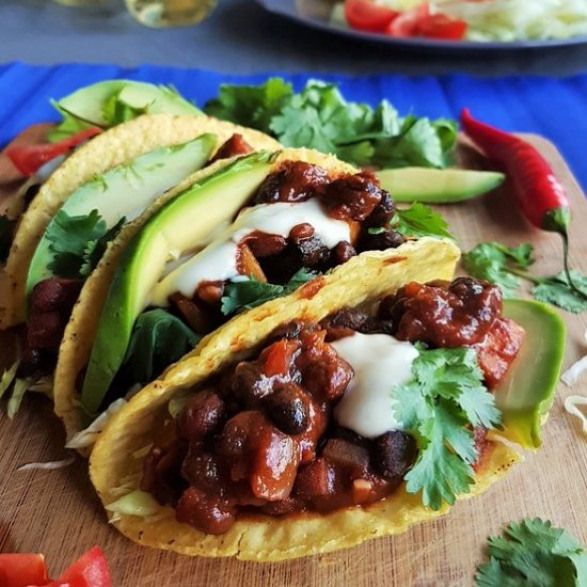 Smokey Bean Tacos
INGREDIENTS:
15 oz can of no salt added fire roasted tomatoes (I could not find fire roasted tomatoes so I added about a tablespoon of Liquid Smoke
1 cup diced onion
1 cup diced seeded poblano pepper
1 TBS minced garlic
1 TBS fresh oregano or 1 tsp dried
1 tsp ground cumin
1 1/2 tsp chopped canned chipotles in adobe sauce (optional)
1 1/2 can (15 ounces) no salt added black beans, rinsed and drained
1 1/2 can (15 ounces) no salt added pinto beans, rinsed and drained
2 cups corn kernels, fresh or frozen
12 corn tortillas
1/2 cup chopped cilantro (optional)
1 lime cut in quarters
1-2 avocados
2 cups chopped romaine lettuce
PREPARATION:
Preheat oven to 350 degrees.
In a large skillet over medium heat combine tomatoes, onions, poblano pepper, garlic, oregano, cumin, chopped chipotle (if using), salt and pepper (a dash or 2 of each). Cook for about 10 minutes – until onions begin to meld.
Stir in beans and corn. Bring to a simmer and let cook, stirring occasionally, for 10 minutes.
While beans are cooking, warm tortillas in oven or over stovetop.
If using cilantro — before serving – stir it in to the bean mixture (save some for garnish)
To serve — scoop in the bean mixture to a tortilla — add, romaine lettuce, avocado and squeeze lime on top. Add cilantro if using.
Combine all ingredients (except oatmeal) in the base of a food processor or blender. Adapted FROM: Dr. Dean Ornish "UN DO IT" book.