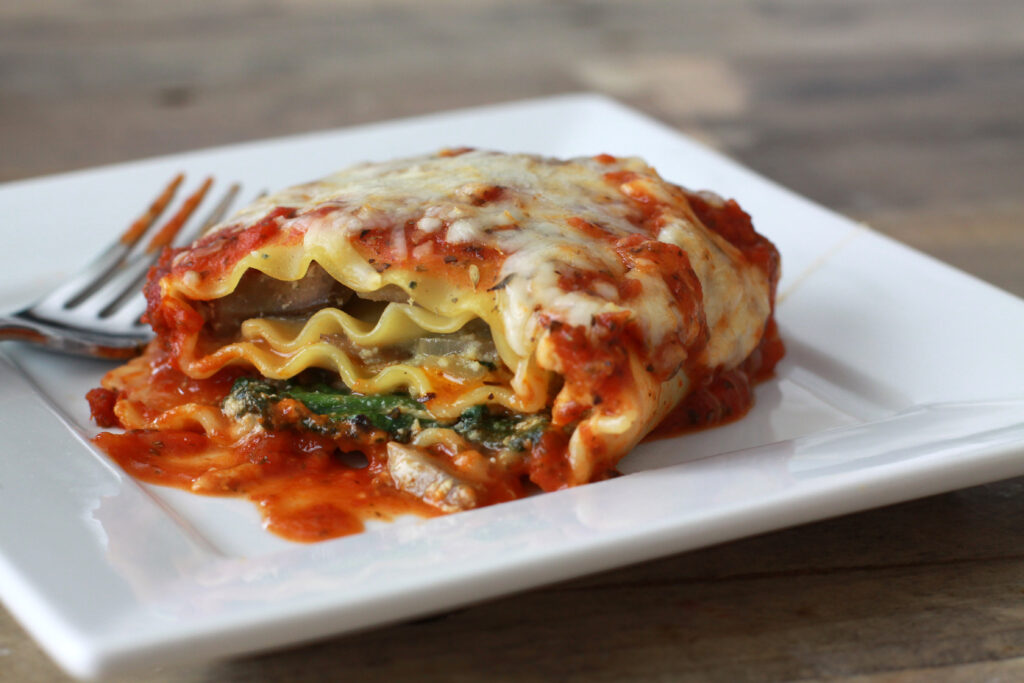 Spinach and Mushroom Lasagna from "UNDO IT!"
INGREDIENTS:
32 tunes frozen chopped spinach, thawed
16 ounces cremini and/or button mushrooms
1/4 tea fine sea salt, divided
1/4 freshly ground black pepper
2/3 cup Roasted Garlic,puree
24 ounces tofu, blotted dry and finely crumbled
1/4 cup nutritional yeast
1/2 cup finely packed basil leaves, finely chopped
1 TBS chopped fresh oregano or 1 tea dried 1/4 tea cayenne (optional)
1package (13.5 ounces) whole wheat or brown rice lasagna noodles (14 to 16 ounces)
2 jars (26 ounces) low-fat marinara sauce
1/3 cup flat leaf parsley, for garnish (optional)
FOR the Roasted Garlic Puree:
1/2 cups peeled garlic gloves (8 ounces)
PREPARATION:
Preheat oven to 375
ROASTED GARLIC PUREE:
Spread garlic gloves in a baking pan. Cut any large gloves in 1/2 to insure even cooking. Add 1/3 cup of water. Cover garlic gloves loosely with parchment paper.
Roast garlic until larges gloves are soft enough to mash easily, and gloves have a yellow to light brown color. Start checking after 30-35 minutes, continue roasting up to 15 minutes if necessary. Ultimately,, all the water will evaporate by the time the gloves appear golden brown.
Remove garlic from the oven. Let cool, then refrigerate until needed.
To make the pure, mash the gloves with a fork, masher or blend in a food processor, adding up to 2 TBS of water as necessary to make a smooth puree. This recipe with make 2/3 cup. You can freeze in ice cube trays to store and use as needed.
FOR THE LASAGNA:
To make the filing — place thawed spinach in a colander in the sink or over a deep bowl.Using your hands squeeze or press vigorously to remove excess liquid. Continue to squeeze and press spinach until it is almost dry; excess liquid left in the spinach will make a soggy lasagna. Set aside.
Working in batches if necessary — place mushrooms in a food processor fitted with metal blade. Pulse 6-8 times until mushrooms are finely diced not pureed. Place diced mushrooms in a bowl.
In a large sauté pan over medium heat, sauté diced mushrooms with a 1/8 tea of salt and black pepper, stirring occasionally, until the mushrooms release their liquid and liquid evaporates, 15-20 minutes.
In a medium bowl combine mushrooms, spinach, nutritional yeast, basil, oregano, roasted garlic puree, tofu, and cayenne if using. Season to taste with more basil, oregano and/or cayenne as needed.
In a large pot over high heat, bring 4 quarts of water to boil. When water is boiling, add lasagna noodles one at a time crisscrossing the lawyers of noodles so they don't sick.
Turn off heat and let noodles soften in hot water for 6 minutes (they will seem undercooked). Drain. If you need to hold the noodles under cold water, drain and pat dry thoroughly before using.
To assemble lasagne, spread 1 cup of marinara sauce over the bottom of a 9 1/2 by 13 x 2 inch baking pan. Cover sauce with 3 -4 noodles — depending on size of noodles. Spread about 2 cups of the spinach-tofu-mushroom filling Repeat with the top layer being marinara sauce (use any remaining sauce when serving the lasagna or save for another time).
Place lasagna in the middle rack and bake uncovered for 40 minutes. Cover with foil and bake another 20 minutes.
Remove from oven and let sit for 10 minutes. Serve with marinara and garnish with parsley if desired.. .
NOTE: Make sure tofu, noddles, and spinach are dry before using. FROM: Dean Ornish, M.D. and Anne Ornish "UnDO It!"