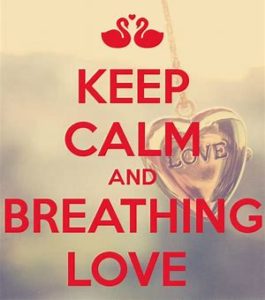 LOVE & your BREATH
There's lots of messages around Valentine's day about "loving oneself" and while I believe loving ourselves is imperative to healthy living — instead of just saying it — let's do something that's easy, doesn't cost money, can be done any and at all times — and gives us the love and support we need.
What's this "magic — silver bullet"?
Our breath.  But, not just our "just breathe" breath — but instead take a moment to do and do again a simple exercise that gives you an effective and healthy way to breath.
In the  FITFORLIFE class/workshop this month we do a lot of breathing exercises because by just noticing our breath and making small changes to it — we can slow ourselves down and give our body much needed love and support.
This Valentine's day — give yourself the gift of healthy breathing — and maybe your next decision to grab that cup of coffee, sugary snack, or impulse to snap back at someone or something that irritates you — won't happen.
Here's one of my favorite breathing exercises — this is so easy and a game changer for us to live a more relaxed and less stressed life.  Try it and do it again and again for a healthy and happy Valentine's Day!   
Soft Buddha Belly Breaths:
Soft belly breath fills your diaphragm which is shaped like a parachute and under the heart.  As you breath in/inhale –  your belly rises and when your belly rises the diaphragm contracts and moves down, creating space for your lungs to fill.  As you exhale, your diaphragm moves up – creating relaxation. 
How does this relaxation happen?  The belly breath gives your heart a massage and signals your phrenic nerve, which runs along the sides of your diaphragm, to activate your parasympathetic nervous system.  The parasympathetic nervous system signals your body to rest and digest.  Very cool!
When you breath the opposite way;  chest breathing —  your heart doesn't get this needed massage and the signal to your parasympathetic nervous system does not happen.  Research shows that chest breathing keeps us in a state of stress and can even be related to neck and shoulder issues.   Not so cool.
You can belly breath at any time.  First, find a time to practice — even 1-5 minutes a day either standing, sitting or laying down.  Close your eyes and imagine a balloon in your belly that inflates as you inhale and deflates as you exhale.  If you don't feel this happening, place one or 2 hands gently on your belly and as you exhale depress your hand(s) slowly so that the air presses out of your belly.
When you go about your day – start to notice your breath — and if your back to chest breathing, just gently begin your belly breaths.  And— give yourself 1-5 minutes day to practice this.  Make it a YOU and your Breath time.   
For more information on healthy living and joining our FITFORLIFE class at the beautiful Neshama Yoga Studio and/or giving yourself healthy home and self care products, contact me.