This past month,  I took myself out of my "life" and traveled to Arizona for 4 days of health, wellness, fitness, nutrition and spirituality — all things I LOVE and aspire to live with on a day to day basis.  This wasn't easy for me— to leave my kids, husband and work behind.  I hesitated and for a while and considered cancelling my trip!  Thankfully – my inner voice (not my head!) guided me and I got on that plane!
I learned and re-learned a wealth of information about health and wellness in general and my own self.  I highly recommend we all take time out — by ourselves — on a regular basis.
So much of what I learned really came under the belief of "being your all — instead of having it all."
One of the topics that stood out to me is this advice: whatever you do — stand 100% behind yourself.  BE you — 100% without doubts and seconded guessing.  For example, if you have a glass of wine — be 100% behind that decision — instead of "well, maybe I should've not done that…"  We not only build self-confidence when we make decisions with certainty but we increase our brain health!   And, we stop "shoulding" on ourselves and instead live a more confident self.
And, the importance of stillness — through meditation (so many ways to do this!) — mindfulness, listening, and just being — can not be understated.  If we move from activity to activity — or shut our feelings down or out — we are not letting our true essence live.
I also learned — new to me — a VERY powerful way to heal — called ""Holographic Memory Resolution®"     If you are "stuck" and have an emotional memory and/or issue reoccur in your life — this may be for you. Contact me and I'll forward to you more info.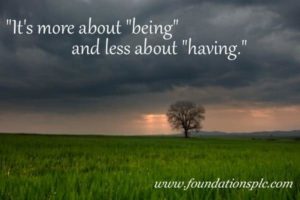 And here's a powerful way to move ourselves from fear:  Step 1)  notice/be aware of the fear, 2)  accept it and just be with it and 3) ask yourself "how would I feel without this fear." 
This is VERY powerful!  Believe me – I used this process while trying to get a horse to lift his leg so I could clean his hoof.  Horses will only comply with us when they feel 100% safe (people too!) — and to feel safe — they need us to be authentic with ourselves and that means — feel what we feel and do steps 1-3 listed above. 
To lift a horse's leg — you need to place your thumb and middle finger in a particular spot on their leg — but you also need to be PRESENT — authentically.  By the end of my time with my horse "Windheart" — he would lift his leg when I stood by him — all on his own!  He also loved smelling my aromatherapy I had on — he would lift his nose — sniff and take it all in.  I will never forget this horse and my time with him.  He made me re-realize that I get caught up in the "doing" a lot and I forget to just BE — no matter how I feel.
Thank you Windheart – this is very important life advice!
How's your health and wellness regime going.  Our health truly is our wealth and our best investment.  Six months into my Institute for Integrated Nutrition (IIN) program and I am seeing clients!   If you or anyone you know who is looking to add more health and wellness in their life — let me know.
And — with me — you not only get Life Coaching — but an option to do talk and DO fitness!  FITFORLIFE is back on at Neshama Studio and classes are on going with me at Life Time Old Orchard as well.  I am also available for private sessions.  Contact me.
As we hear birds chirping — who is ready for spring cleaning!   Warmer weather is a perfect time to shed unhealthy home and personal care products and replace them with healthy and effective ones.  One of my favorite health consulting services I offer is my toxic audit.  Check out my Beautycounter for self care and/or contact me and we'll set up a time to meet.
My passion and commitment to live as healthy as I can and share this with others continues to grow.  It's not only a journey but also a practice and a great way to LIVE life.   Come join me!
To our health and wellness and our BEING present — in every day life.