A Walk in Nature, The football coach, accountant and teacher.
This past spring break, I eagerly prepared. Post-it-notes covered my kitchen counter with all the pre-trip to dos; "arrange for Ollie's boarding (that alone created at least 10 post it notes!), drop off Cake – our guinea pig at the pet store, stop the mail, go to the bank, and so on"…

Excited to head to Mexico after a long winter where all the season's elements —polar vortex, snow, rain/ice, and more snow assented upon us this year – I packed and couldn't wait to go.
The beach, sun, flip flops, adventures and days lingering in our bathing suits awaited us!
Around midnight – the Friday- before our departure – my husband woke me up, nervously asking me "do you have another passport?" Our flight for Tulum, Mexico was scheduled for early that next morning so he was scanning all our passports to get our boarding passes.
Except, my passport didn't scan. It expired a month to the day —last month. With all my planning — this important detail slipped through. Unfortunately, no post-it-note that said "check your passport" landed on my kitchen counter.
My heart sank. I felt terrible. What would I do? Was there a passport office at the airport? Would anything be open —it was 12am on a Friday night!
After doing some investigating (my sales and journalism skills came in handy), I found a 24 passport "emergency" number. I called and was told I would have to call back on Saturday 10am ET to see if I could get an appointment at the Chicago office — for Monday. Yes, the government offices stay closed on weekends!
My best option —if I could get into the Chicago passport agency on Monday – and that same day get my passport renewed – was to fly out of Midway Airport on a Monday 12:20pm flight. This was very ambitious and hopeful. My next best option would be to get my passport overnight or later on Monday and fly out Tuesday. After that —I wouldn't be able to go, as we were returning on Friday.
Telling my kids Saturday morning made my heart sink even lower. My husband and I decided they would all go and I would do my best to get there.
So, they left for the early Saturday flight and I stayed back – unsure – doubtful – hopeful – sad -angry and most of all living the next 48 hours in the unknown. How does the Chicago passport agency process renewal passports? Can I get mine that same day — within hours? I didn't know and there wasn't any where to find out.

But I prepared for the best and decided that while I may not be able to go (devastated) I would plan that I was going.
This is when yoga off the mat — kicked in for me; Breathe. Watch my thoughts. Stay neutral — non-attached to the outcome. Practice self-compassion.
As soon as the post office opened in my town @ 8am – I drove there only to be told that I had to come back at 9am—if I wanted to take a passport photo (yes!) and that it would be very doubtful to get a passport renewed – the same day. At best , I could get it "rushed" to me in 2 weeks! At 9am I drove back and waited, first in line, to take my photo.
After that I drove home —packed a smaller suitcase (yes I am going! and will need a carry on as time will be so limited!). I waited to call the east coast office to ask what I could do.
10am and I called the east coast office -where a nice lady told me "there are no available appointments for Monday but the office opens at 8am and you can go there as a walk in." She gave me all the necessary information that I needed to show up with — photo, application (filled out in black ink), old passport, proof of my flight, money… No time here to miss a beat!
I have a plan now —and 48 hours to wait it out. Again, yoga — off the mat — kicked in for me. Breathe. Watch my thoughts. Stay neutral — non-attached to the outcome. Practice self-compassion.
Part of me wanted to draw the blinds in my house – curl up on the couch and cry. The thought of missing this spring break with my family brought so much sadness. What a disappointment—after looking so forward to it.
And, part of me — a small voice – said "call your sister who lives nearby. You need someone to talk to and cheer u up!". Glad I listened to my nurturing voice and not the harsh critic who was so mad at myself and the universe for having this happen. I needed self compassion and I could tell that this experience was giving me a first class lesson on it!
What happened next —became magical. I ended up going on Saturday for a long walk with my sister, 18 year old niece, who was home from college, and their 2 small dogs in the forest preserves. The sun shown down on us —birds chirped and 2 graceful cranes posed in the pond (real life yoga "Crane pose"). A walk in nature.
We ended our day in a microbrewery in their town and had a delicious dinner with my brother-in-law at a local restaurant. Special time — unplanned. And, I could've been on the couch listening to my harsh critic! When life gave me lemons — thankfully I was able to make lemonade.
The next day – Sunday – I took myself to one of my favorite yoga classes. I typically can't make this class or if I do I am rushed after taking my kids to Sunday school. After the class, I ran into one of my students who I had not seen in months. Seeing her was a "God send".
I had been trying to reach her the past few months but my texts didn't seem to go thru. She is a wise soul —intuitive and very spiritual. I couldn't believe I was seeing her as she was one of a few people I could tell about my passport – disappointment. When I told her – she said exactly what I needed to hear: "visualize that you are going and you will."
In other words —until I really knew —why not assume for the best. So I did. I visualized myself on that Southwest; 12:20pm — Monday flight!
After talking to her. I headed down town to one of my old stopping grounds —the Ruby Room. I used to go there when I lived in the city for a tarot card reading and or massage. It's a special place to me and one that I don't get to, hardly at all anymore. Lately, I have yearned to go there for some nurturing and self-care. This was the perfect time!
The reading and massage gave me exactly what I needed – helping me gain more self compassion and awareness. I didn't gain insight if I was making the Mexico trip —but the message of letting go of old wounds that didn't serve me was loud and clear.
While in the city that Sunday – I drove to the passport office so I knew exactly where it is and where I would park the next morning. I knew if I was going to get my passport renewed and make that Monday flight (only one available that day) that every minute would count!
7:30am I arrived at at the Chicago Passport Agency — my bag packed and ready to go in my car. I was surprised that quite a few people arrived before me — waiting in line. I got into the walk in line and started the process. When I processed my paperwork and paid — the agency rep told me it would take at least 2-3 hours to get my passport (yes that same day!). If they could do it in 2 hours — I'd make the flight (barely). She said she'd see what they could do.
While waiting, I met a man — faced with a predicament worse than mine. A football coach for a local high school — he traveled with some kids and his family to Italy for a football program — only to discover that the Italians made him come back to the states because there were multiple dates showing up on his passport "electronic" file. What appeared to happen was that after he renewed his passport in 2018 — 2015 showed on his passport as its issue date. This made it appear that he had duplicated the passport or that someone or someones applied multiple times for his passport within 3 years. Crazy, unfair, unpredictable — And really — the only thing to keep him from blowing up — was yoga — off the mat: Breathe. Watch the thoughts. Stay neutral — non-attached to the outcome. Practice self-compassion.
Soon after my wait — I hear "Quinn" — my passport is ready! My new football coach friend and I went for a shake than hug and said good bye. Humanity at its best. From the office — I set off running — and didn't stop until — YES — I landed at the gate of the Southwest 12:20pm flight to Cancun, Mexico!
Once on the plane — I ended up next to a couple — 2 wonderful people — an accountant (the woman) and a first grade teacher (the man). We said hello and after I told them why I was so thankful to be on the flight — we shared our thoughts on why it's so important to create the space between what happens to us and how we react. In other words, yoga — off the mat: Breathe. Watch the thoughts. Stay neutral — non-attached to the outcome. Practice self-compassion. Without my yoga — off the mat — I don't think I would've been on this flight.
We practice yoga on the mat. Yet, life gives us the real practice. And when we accept that practice — we grow and life is magical. Did I want more time in Mexico? With everything I learned and the growth I feel — I don't think I would change anything that happened last week — expired passport and all. When I stopped asking myself "why did this happen" and instead "what can I learn from this" — I felt lighter and my life flowed.
Do you want more yoga — on and off the mat? Contact me for classes and private consultations.
And — on a side note — YES we can travel with a carry on! When we have to do something we usually feel we can't do — it's amazing how much we CAN do it when we have to. I always struggle with packing for trips. I pack too much and check my bag. This trip I had to travel light — with a carry on. I did it!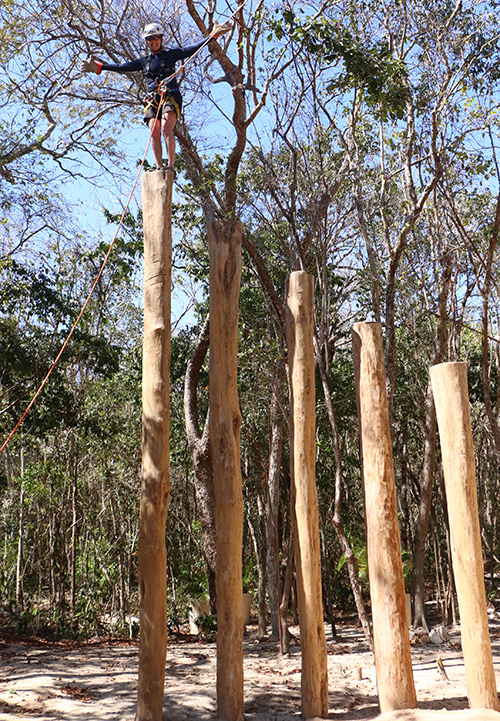 With my yoga off the mat — I let go of lots of stuff — internally and externally. Magical.