Quinoa-Sweet Potatoes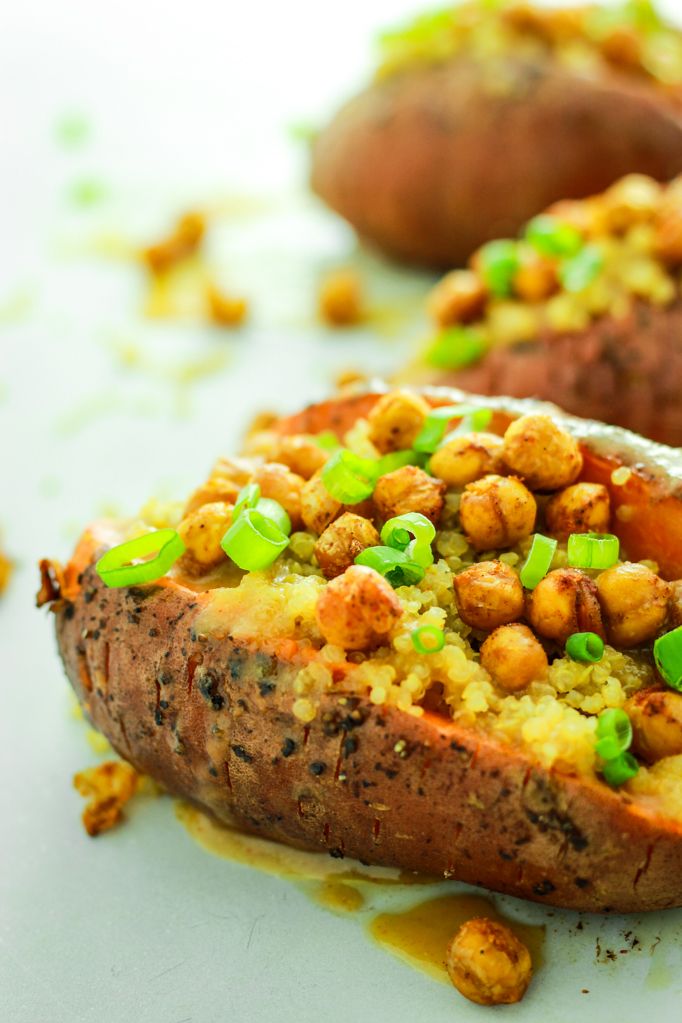 Ingredients:
cup quinoa, rinsed
2 cups water
½ cup pepitas or pine nuts
⅓ teaspoon plus 3 tablespoons extra
Virgin oil
1 can (15 ounces) chickpeas rinsed and drained. Or 1 ½ cups cooked chickpeas
½ cup chopped green onion
½ cup of chopped fresh flat leaf parsley
2 gloves of garlic, pressed or minced
3 tablespoons lemon (1-2 lemons)
Fine sea salt
½ cup crumbled goat cheese
Optional:  add craisins on top
Directions:
Preheat oven to 400 degrees. Place sweet potatoes on parchment lined baking sheet. With a fork poke holders in sweet potatoes to allow steam to escape while cooking
In a medium sauce pan combine the quinoa and water. Cook according to package directions.
In a medium skillet, combine pepitas or pine nuts and ⅓ teaspoon of the olive oil. Cook over medium heat, stirring frequently, until they are golden on the edges, Pour peptias in a large bowl.
Add the chickpeas, parsley, green onion, garlic, lemon juice, ½ teaspoon of olive oil and salt to the bowl. Mix well.
Cut sweet potato and sprinkle with the sea salt while mashing the potato a bit. Fill the sweet potatoes with the quinoa mixture. Top with more lemon juice if wnat more flavor and sprinkle with goat c heese when ready to serve.
Adapted From: Eat Real Food. Enjoy.
Left Overs: Refrigerate in airtight
containers for up to 3 days.