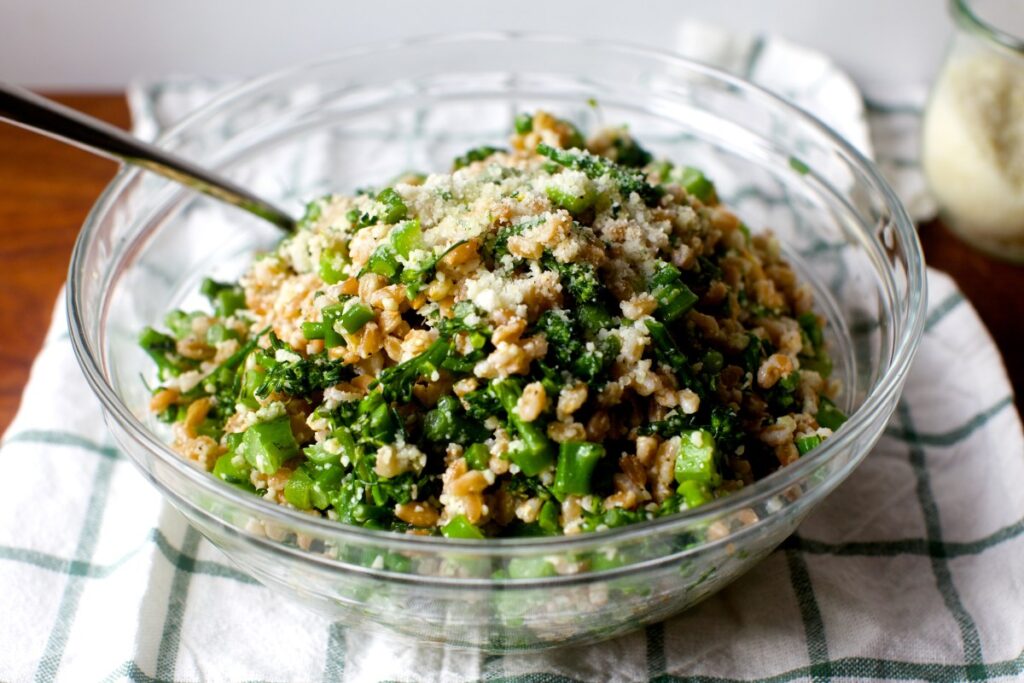 Sprouting Broccoli Salad
INGREDIENTS:
3/4 cup farro
6 ox Brussels Sprouts
2-4 mini sweet peppers
2 oz Castelvetrano olives
2 garlic gloves
1 lemon
1 cup broccoli florets
FOR THE DRESSING:
1/3 hemp seeds
1 tablespoon white miso paste
1/4 cup sunflower seeds
1/2-1 lemon
PREPARATION:
Add faro and a pinch of salt to a small saucepan and cover with 1 inch cold water. Bring to a boil, reduce heat to medium, and cook faro until tender, 18-20 minutes. Drain and return to the saucepan off heat.
Thinly slice the Brussels Sprouts. Trim and thinly slice the mini sweet peppers into rounds.
Check olives and remove any pits. Halve the olives. Peep and mince the garlic. Zest, halve, and juice the lemons.
Peel and mince the garlic.
Heat 1 tablespoon olive oil or water in a non-stick large skillet over medium heat. Add the minced garlic, broccoli florets and a pinch of salt (optional) and pepper. Cook tossing occasionally, until the broccoli is lightly browned and crisp tender – 5-10 minutes. Turn off heat, add the lemon zest and toss.
Add 2 -4 tablespoons lemon juice, hemp seeds and white miso paste, 1/4 -1/2 cup of water and 2 tablespoons olive oil t a blender and blend until smooth.
Add sliced Brussels Sprouts, seared broccoli florets, 2 tablespoons of miso power dressing, and sunflower seeds to a large bowl. Toss the sprouting broccoli salad to combine.
Divide the cooked faro between bowls and top with sprouting broccoli salad. Drizzle with remaining miso power dressing. Top with sliced peppers and halved olives. YUM! Adapted from: Purple Carrot.