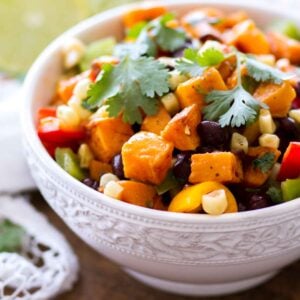 SOUTHWESTERN POTATO BOWL
INGREDIENTS:
4 large Yukon Gold Potatoes
1 (15 ounce) can pinto beans, drained, rinsed and mashed
1/2 to 1 cup Ro-Tel Diced Tomatoes
and Green Chilies (look for no or low-salt)
8 ounces frozen corn (white corn if you want sweeter)
1 red bell pepper, diced
2 green onions, chopped
2-4 cups fresh spinach
Fresh cilantro, for garnish
Optional: Hot sauce
PREPARATION:
Prepare Yukon potatoes any way you prefer — steam, microwave, baked or roasted.
Prepare the beans as directed — microwave or stovetop. With the back of a fork — mash half of the beans. Add the desired amount of tomatoes corn, pepper and green onions. Set aside.
Build your bowl: in the base of the bowl, place a layer of fresh spinach, followed by the potato, cut in half or cubed (your choice). Add the bean mixture on top of the potato and garnish with cilantro and a few shakes of your favorite hot sauce (optional). Serve with a green salad or heaping helping of cooked greens. FROM: Engine 2 Seven Day Rescue.