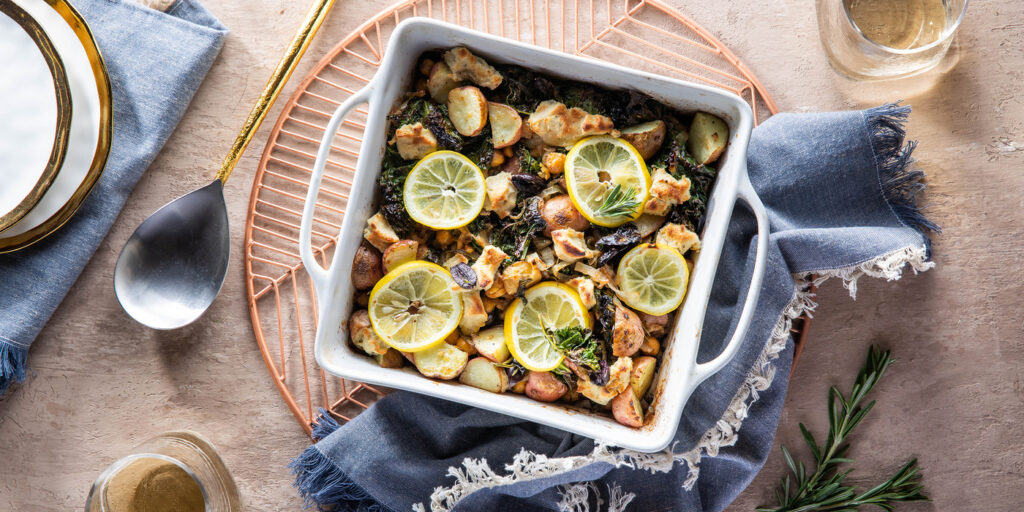 LEMON BRAISED CHICKPEAS WITH ROSEMARY & CASHEW CHEESE
INGREDIENTS:
1 onion
2 garlic gloves
1/4 oz fresh rosemary
1/4 cup Kalamata olives
13.4 oz chickpeas
8 oz red bliss potatoes
2 TBS capers
4 oz or more of curly kale
2 lemons
2 oz cashew cheese (brand: Treeline Soft French-Style
PREPARATION:
Preheat the oven to 425. Peel and thinly slice the onion(s). Peel and mince the garlic. Pick the rosemary leaves from the stem. Check Kalamata olives and remove any pits.— cut them in half and drain. Drain and rinse the chickpeas. Cut red bliss potatoes into 1 1/2 inch cubes.
2) Heat 1 tsp or TBs of olive oil in a large pan over medium heat. Add the onion and garlic 1/4- 1/2 water, four TBS olive oil, and a pinch of salt and pepper. Cook until onion is soft. Transfer to a baking dish.
3)Add rosemary leaves, olives, chickpeas, potatoes, capers, and a pinch of salt and pepper to the backing with onion and garlic.
4) Stir and cover dish — bake until potatoes are soft — about 20-25 minutes.
5) Wash and de-stem kale — thinly slice the leaves. Return the sauce pan and a little oil — tsp and kale. Cook about 2-4 minutes – until kale is wilted and bright green.
6) Thinly slice 1 lemon into rounds. When potatoes are fork fender, add the sautéed kale and toss. Crumble the cheese over the braised chickpeas and top with sliced lemons. Broil dish for 2-3 minutes -until cheese is slightly brown.
7) Half the other lemon and juice it. Add the lemon dish to the braised chickpeas. Serve dish right from the baking dish into 2-4 bowls. EnJOY. FROM: Purple Carrot.