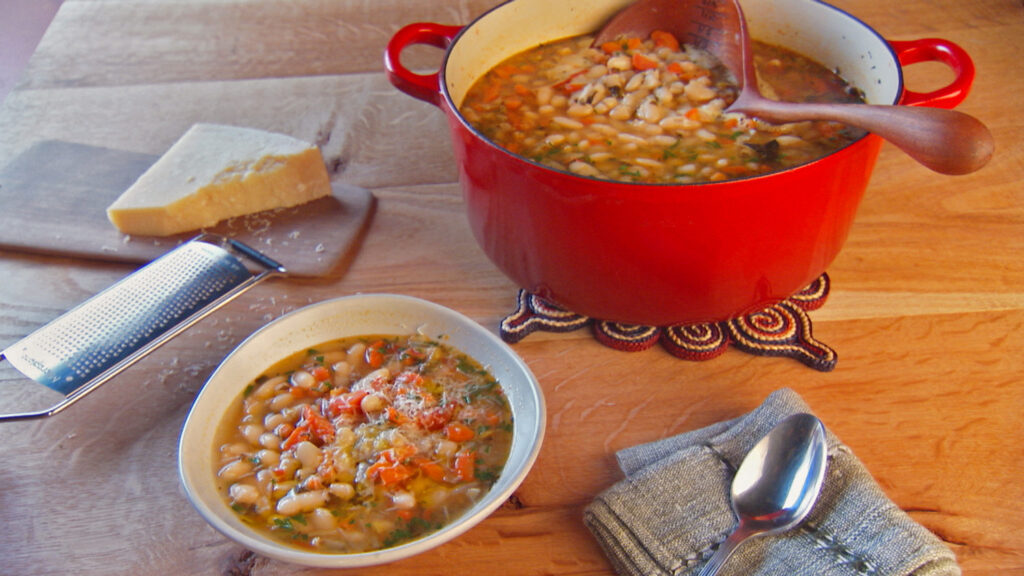 Italian Cannellini Bean Stew
INGREDIENTS:
1 onion
2 garlic gloves
1-3 carrot(s)
1-3 celery stalk(s)
4 oz mustard greens
1 lemon
13.4 oz cannellini beans
2-4 veganItalian Sausages (or any vegan sausages)
1 tsp herbs de Provence (or Italian herbs)
2 cups of vegetable broth
1-2 TBS soy-free vegan parmesan or Nutritional Yeast
PREPARATION:
Peel and dice the onion. Peel and mince the garlic. Peel and slice the carrot(s) in rounds. Slice the celery. Cut the stems off the mustard greens and chop the leaves. Halve the lemon(S) – juice 1 1/2 and curt one 1/2 into wedges.. Drain and rinse the beans.
Remove the sausage casings and slice into rounds. Heat 1tbsp olive oil. Add sliced sausages and cook until browned, 5-8 minutes. Transfer crispy sausages to a plate and cover to keep warm,.
Return the pot to medium-high with 1 tsp olive oil. Add diced onion, minced garlic, sliced carrot, and sliced celery and cook until softened, 5-6 minutes. Add the beans, herbs and vegetable broth and stir to combine. Bring stew to a boil, and reduce heat to medium. Simmer until vegetables are tender, 4-6 minutes.
Add chopped mustard greens to the pot and simmer, until just tender, another 3 to 5 minutes. Remove pot from heat and add lemon juice, 1/2 tsp of salt and a piece of pepper.
Ladle the Italian bean stew into large bowls. Top with crispy sausage and sprinkle with parson. Serve with lemon slices. Modified FROM: Purple Carrot.