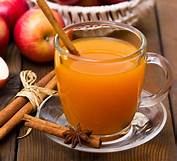 INGREDIENTS:
10 Apples, cored and chopped (yields 3 cups of juice)
3/4 teaspoon of cinnamon
1/2 teaspoon of ground ginger or teaspoon finely grated fresh ginger
Pinch of ground nutmeg (optional)
Pinch of ground cloves (optional)
1/2 teaspoon grated orange peel
PREPARATION:
Juice the apples using and electric juicer (or buy juiced apples)
Add the cinnamon, ginger, nutmeg, cloves, and orange peel to the juice.
If you are serving the juice cold, let it infuse for at least 10 minutes. Strain through a fine mesh sieve and serve.
If you are serving it hot, place the juice in a small saucepan and heat until simmering. Turn the heat off and infuse for 5 to 10 minutes. (If you can avoid heating it in the microwave that's ideal. Stain through a fine-mesh sieve and serve. . FROM: Medical Medium: "Cleanse to Heal."