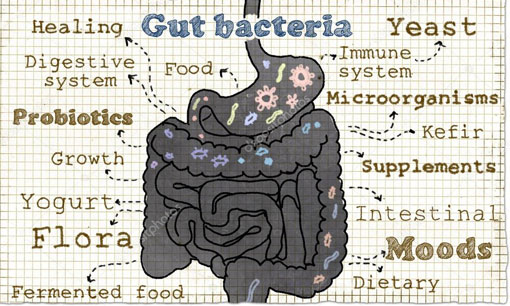 Summer is here. It's a time to play, be with friends and family, and slow down. However, if you are suffering with digestion issues – you might not feel so excited for fun in the sun!
Today, I want to share with you my struggle with digestive issues.
For numerous years, I suffered from bloating, brain fog, constipation and fatigue. For years prior, my weight bounced from too heavy to not wanting to eat and finding it very challenging to lose the extra weight.
Everything I ate caused me digestive pain.
I didn't want to get out of bed. I didn't have energy for my favorite activities; like biking, teaching fitness classes, hanging with my teenagers and husband, and playing with my dog.
And, not only did I test positive for dysbiosis –which means my gut microbiome was unbalanced – I also tested low on some hormones and pancreas enzymes.
I knew life could be better. So, I studied and found the right method to not only clear my unbalanced microbiome but I lost the extra 12 pounds I gained since the Pandemic!
And, finally – I did get my life back.

👉I am going to the beach and walking on the lovely sand.
👉I am wearing those cute outfits that were just hanging in my closet
👉Ollie (my dog) and I play.
👉I am going out again.
👉I am traveling and celebrating Holidays and graduations.
👉I am eating veggies and fruit again and anything I want.
I am sharing this with you because if you struggle with digestive issues, like SIBO (Small Intestine Bacterial Overgrowth) or gut microbiome imbalanced or you don't know what you are suffering from– I want you to know that you can and will ABSOLUTELY get your life back. And, while doing this, you will feel your best, strong, empowered, and calm self.
Maybe you've tried supplements, tests, exercises, doctors…to help your digestion issues and nothing helped?
Perhaps you just think this is the way you are supposed to feel and you avoid certain foods or wearing clothes from your closet because you don't feel great.
I was there.
Leading up to my dysbiosis diagnosis, I was feeling really bad.
👉I kept getting colds, congestion, and sinus headaches
👉I restricted eating healthy foods because they caused me pain and bloat.
👉Fruit (my favorite) no way. Vegetables – I knew I needed but was scared to eat them.
👉Legumes not a chance.
Foods made me bloat and look pregnant most of the time and feel really, really bad.
I had joint pain, acne, and brain fog. And, the gas and constipation – so bad.
IBS (irritable bowel syndrome) was my norm – so uncomfortable!
Where am I now?
Thriving, really thriving in all parts of my life.
👉I am going out again – yay! And, celebrating life's occasions.
👉I can and do eat all things I want and the weight I gained during the Pandemic (12 pounds) is GONE!
👉Of course, life still brings stress my way but I am calm and the stress doesn't throw me off.
👉And, I genuinely love and adore myself and life – for the first time ever.
It took work to get to this place but it was so worth it!
And, now – I want to help you and as many people as I can heal their digestive issues in a real, loving and doable way.
So, I've created The Vibrant Woman Project and I am working with Naturopath Kirsten Greene's SIBO Freedom Project, which has to date helped hundreds of people who suffer from their digestive issues heal and live their best, wonderful self and life.  I can help you find the right help – for you.
My digestive issues brought me to a dark place. I never wanted to go out and do anything with my family or friends.
Scary place to be.
If you are there and scared you'll never get better, I am here to tell you, you absolutely WILL get better!
Our bodies are incredible. Given the right ingredients, conditions, and love they'll respond so well.
It just takes clearing out the digestive issues, SIBO and unhealthy gut microbiome and putting all the good stuff back in.
And, it takes having cheerleaders and people who understand what you are going through.
I worked with various coaches and learned the tools to develop strong mental and emotional health -which is SO important for our physical health. This, as well as a decade working as a fitness instructor and health coach, specializing in optimal and digestive health, contribute to my work now.
I am extremely good at what I do and how I do it and I can also refer you to the right person or program if I cannot help you.
I understand and relate to pretty much every symptom my clients have because I have suffered these symptoms to;
👉Nasal congestion – YUP!
👉Weight Gain – YES
👉Constipation – Most of my adult life
👉Terrible (and smelly) gas – Yuck
👉Brain Fog – What did you say?
👉Skin – very dry and itchy and sometimes acne breakouts.
Plus heaps more – I felt awful – inside and out.
And, now, I feel grateful I went through this – but gosh I don't want anyone else to have to suffer like this.
If you need help claiming your life back from SIBO or any digestive issue, I am here to help. If you want to sleep better, eat the food you love, get to the perfect weight for you, feel calm and relaxed, there's a program to give you these results. And, the bonus of this lifestyle is, all this helps decrease your risks of chronic illnesses like cancer, heart disease, diabetes just to name 3.
This is now my life's work. I'd love to get you to where I am today – feelling strong, empowered, vibrant, confident and healthy – no matter what is going on in your life.
The Vibrant Woman Project and SIBO Freedom give you this chance to feel great again (or for the first time!).
If you relate to my story, then The Vibrant Woman OR SIBO Freedom is for you.    Just hit reply and we'll connect.  
Feeling stuck, sick, frustrated from your digestive issues – get the help you need.
Yes, you can begin to get relief right away!
Tired and wired all the time. I can give you recommendations to start doing right now.
Hormones out of whack? You can get help with those too.
Not sleeping great – I will give your REAL solutions.
You deserve this.
Make the best investment in you – your life.
Give yourself this opportunity to feel better.
Hit reply and send me any questions,
Lots of love,
Christine