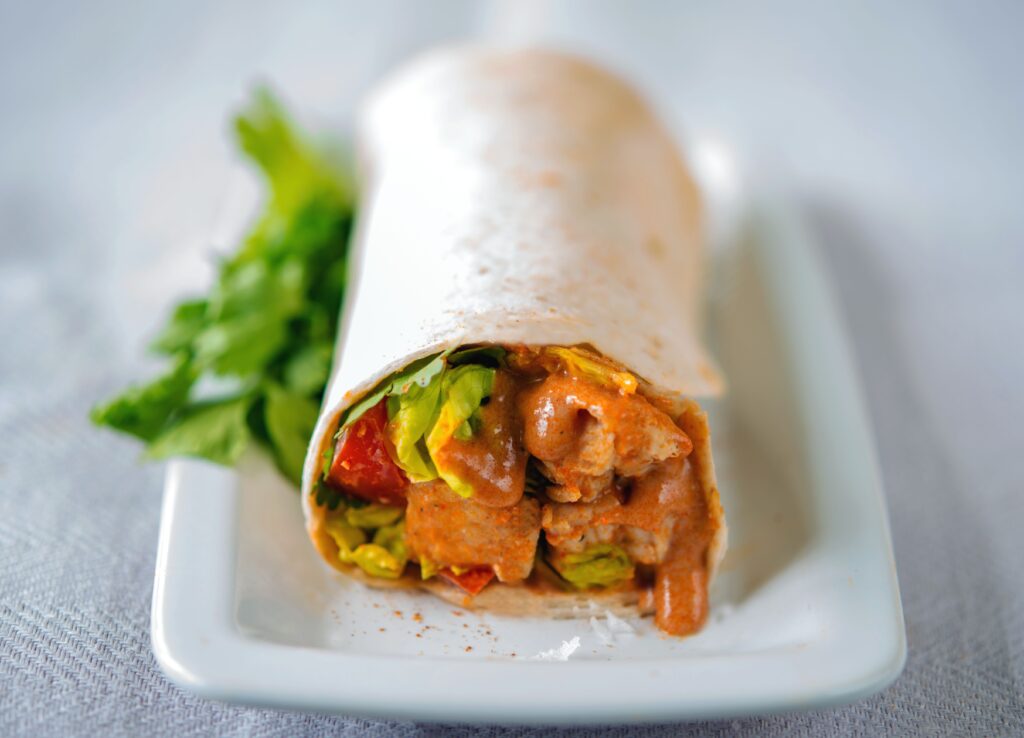 Buffalo Chicken Wrap
Ingredients
½ cup unsweetened almond milk
½ cup vegan panko bread crumbs
8 ounces extra-firm tofu, pressed
6 tablespoons hot sauce (or less for less hot)
¼ cup hummus or other dressing of choice
2 whole wheat tortillas
1 cup shredded iceberg lettuce or shredded cabbage
1 red onion, diced
1 carrot, grated
½ cup broccoli sprouts
Salt and Pepper to taste
Notes:
Left Overs:  Refrigerate in airtight
containers for up to 3 days.
Left over Chick'n:  Make the entire tofu package and enjoy the chick'n alone with rice or in a taco on a salad or….
Make it Gluten Free:  Use a gluten-free version of the panko and serve on a top of greens.
Extra Flavor:   Serve with limes and/or a dollop of coconut yogurt. 
Nut Free:  Use oat, coconut or rice milk.  
Preparation:
Line a baking sheet with parchment paper.
Preheat oven to 350 degrees.
Place almond milk and bread crumbs in 2 separate shallow bowls. Slice the pressed tofu into 1 inch wide stripes dip into the almond milk, then coat with the bread crumbs. Place single layer on baking sheet.
Bake for 10 minutes, then flip the tofu and bake for an additional 10 minutes, or until crispy.
Place buffalo strips in a bowl and toss with the hot sauce until coated.
Spread the hummus or dressing of choice on each tortilla, and add the shredded iceberg lettuce or cabbage, sliced red onion, carrot and broccoli sprouts . Fold the sides to the tortilla, and tightly roll. Adapted from PlantYou. Enjoy.