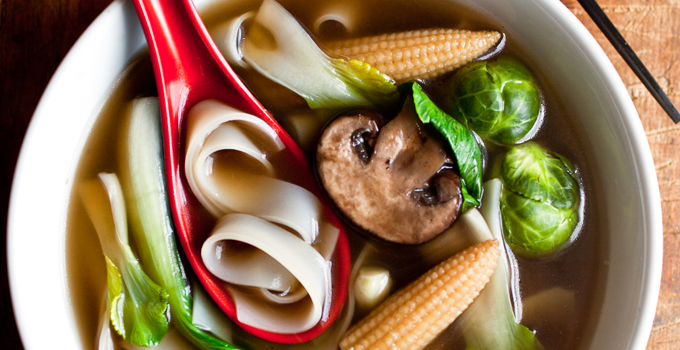 WILD MUSHROOM, GINGER and MINTED BRUSSELS PHO SHOW
INGREDIENTS:
1 TBS olive oil or spray oil
1/2-1 onion diced
1 pound Brussels s sprouts trimmed
4 cups low-sodium vegetable broth
1 TBS fresh grated ginger
4 ounces wild mushrooms (mix them up)
1 large or 2-3 small portobellos mushrooms, cubed
8 ounces white button mushrooms, quartered
3-4 heads of bok choy
1 5 ounce can baby corn, drained and halved (juice3 reserved)
1 can 14 ounce can of water chestnuts (juice reserved)
5-6 TBS light soy sauce
1-3 star anise
3-4 limes juiced
4 TBS finely chopped mint
2 TBS sesame oil (optional)
PREPARATION:

Heat oil in a large saucepan over medium heat. Add onions, and halved Brussels sprouts and sear for 1 minute, splashing with vegetable broth to slightly steam.
Add ginger and all mushrooms, mixing together
Add remaining vegetable broth, cooking the mushrooms down a bit and stirring frequently.
Add baby boo ahoy, baby corn and water chestnuts, soy sauce, and star anises. Bring to a slow simmering boil for a few minutes at most.
Before serving, remove star anise and add lime juice, mint and sesame oil to finish. Sever with your favorite grain, noodle or sourdoughs bread lightly toasted.
FROM: "Crazy Sexy Diet."