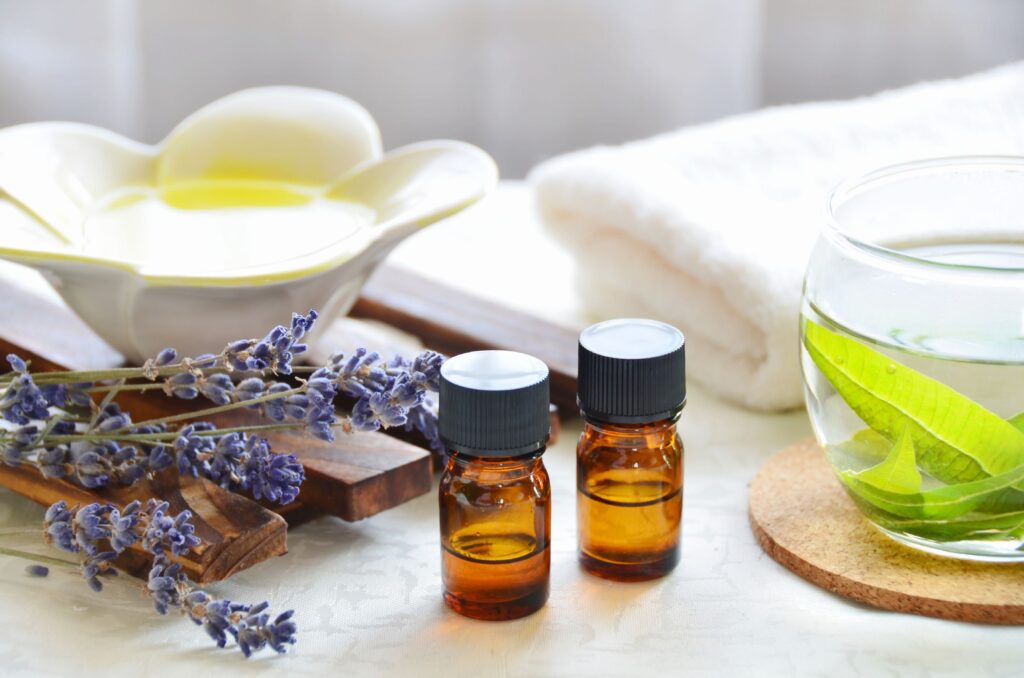 Scents: Natural or Artificial — what is the difference
Who doesn't like to smell great! Maybe we love perfume or other products that include "fragrance" because they make us smell good. But, we need to be aware because many perfumes and scents that include "fragrance" can be harmful to our health!
Working with hundreds of women, I learned that many of us don't realize that 1) fragrance can be harmful and 2) there is a healthy alternative that not only smells better, adds to our health (mind and body!) but also doesn't harm our health and environment with toxins.
What are these alternatives? First, let's take a dive into why "fragrance" is harmful.
What Is A Fragrance Oil?
"Found in a multitude of products, from personal care items and perfume to scented candle lines and more, fragrances plague consumers every day. On an ingredient list, 'fragrance' may look like just one ingredient, but oftentimes indicates a list of undisclosed, harmful ingredients.
Under the Fair Packaging and Labeling Act (FPLA), the ingredients in a fragrance are not legally required to be disclosed, making it difficult for consumers to avoid ingredients they may be sensitive or allergic to.
Unfortunately, there are a variety of concerns that haunt fragrances, beyond being potential allergens and sensitizers. Hormone disruptors and reproductive toxins are a few additional descriptions of some of the chemicals found in synthetic fragrances. In a study done by the Environmental Working Group, 17 name-brand perfumes were tested to find chemicals not listed on the labeling. On average, 14 undisclosed ingredients were discovered, including galaxolide, tonalide and diethyl phthalate." (Source: Bella Martinez, a Certified Aromatherapist, Natural Skincare Formulator and Edens Garden's lead aromatherapist)
Now, let's review the best alternative: Essential Oils.
What Is An Essential Oil
"Essential oils are the 'essences' of plants. In nature, they help to protect plants from diseases and insects, as well as communicate with other plants. Essential oils are obtained from plants via steam distillation and cold pressing and are used in aromatherapy for their beautiful aromas and therapeutic benefits. The benefits of essential oils vary widely, and research has shown that they have the ability to improve sleep, reduce pain, boost skincare and mitigate stress due to the naturally occurring aromatic compounds they each contain.
While many assume all essential oils to be pure and unadulterated, essential oils are actually oftentimes chemically manipulated to have consistent aromas. They've also been found to contain pesticides and have cheaper synthetic fragrances added, which can cut costs." (Source: Bella Martinez, a Certified Aromatherapist, Natural Skincare Formulator and Edens Garden's lead aromatherapist)
It's for these reasons that working with reputable suppliers is a must (contact me and I will set you up with great recommendations!.
What Is The Difference Between Fragrance Oils And Essential Oils?
There are various differences between fragrance oils and essential oils, but it primarily boils down to the fact that high-quality essential oils are natural, pure and therapeutic, unlike fragrance oils. But let's dive deeper into this comparison.
PURITY
While some companies' definition of purity varies, 100% pure at reputable companies means that an oil is not processed in any way following steam distillation or cold pressing, and is free of synthetics, pesticides, preservatives, fixatives, additives, or any extra ingredients whatsoever. It's also important that oils are bottled in protective, amber glass bottles to prevent light, air and heat from affecting each oil.
Because fragrance oils are an amalgamation of natural, synthetic and naturally-derived ingredients, and because each of these ingredients may be processed and even adulterated to various degrees, fragrance oils are not considered 'pure.'
THERAPEUTIC — how we can add health to our mind and body
Fragrance oils are oftentimes created for aroma purposes only. Even if a fragrance oil is made with essential oils or a natural fragrance, their therapeutic properties are likely to be diluted down by any synthetic fragrance ingredients. And while this may be fine for some, for those who want an enjoyable aroma along with benefits towards their wellbeing, essential oils are the clear choice. For example, lavender essential oil calms us while citrus oils awaken and add clarity.
NON-TOXIC
One of the primary problems with fragrance oils is that they could potentially contain harmful chemicals, and oftentimes do. This problem is especially grave when a company does not disclose a fragrance oil's ingredients (which they can easily do because there is no law that states they have to include all the ingredients in fragrance).
On the other hand, essential oils are considered safe and non-toxic when following proper safety guidelines.
NATURAL
Let's circle back to our opening question on whether or not you'll be choosing a natural or an artificial aroma to enhance your wellness. You may have chosen natural, but here's the caveat–just because a product is marketed as 'natural' doesn't always mean that it is.
For example, a product can be marketed as "natural" because it has some natural ingredients. However, it may also have "fragrance" in it and therefore include toxins.
Reputable companies that provide healthy oils believe that the further an essential oil is processed after steam distillation or cold pressing, the less natural it becomes. Isolates, for example, are oftentimes marketed as a natural ingredient but have been reduced down to a single molecular component through heavy processing, taking away from the complex and therapeutic character of plants found in nature.
And while isolates or naturally derived ingredients may be more natural than a synthetic compound, this does not mean that these ingredients are safer than synthetic ingredients or better for you.
Clearing Up Your Questions On Essential Oils Vs Fragrance Oils
Despite what you now know about the differences between fragrances and essential oils, you're still likely to run into companies misusing these terms. That's because essential oils are still largely unregulated in the US. Thus, companies are able to identify their products as containing essential oils when they contain very little or none whatsoever.
It's for this reason that many professionals in the aromatherapy industry have created standards that separate high-quality, natural essential oils from fragrance oils so that essential oil users know what to look for when searching for true aromatherapy products. According to industry standards, the following should be provided of all essential oils:
GC/MS test reports and analyses
County of origin
Shelf life
This may seem like a short list, but really GC/MS testing can answer a host of questions–like is this oil a high quality, pure essential oil or is it a fragrance oil?
Choose Nature!
I find that nature does it better, which is why I'll always choose the real deal over a knock-off. Because I like my scents with a side of benefits towards wellbeing and not a risk of it being bad for my health or the environment.
I can be having a bad day, and reach for my "Balance" or "Be Still" Essential Oil and my mood and day shift dramatically — for the better.
Need ideas on where to get the healthiest essential oils (yes, like most things — companies can make essential oils that are harmful to the plant and us) leave a reply.
SOURCES:
1) Bella Martinez, a Certified Aromatherapist, Natural Skincare Formulator and Edens Garden's lead aromatherapist)
2) Fragrances in Cosmetics.