Additional wellness tool for enhancing and healing our health
The other day — darkness and cold loomed in the air  (we've had a lot of  this weather lately!) — so I decided to go to yoga. 
When I got to the studio — the room's smell and sounds transformed me to a lovely — garden — bringing spring inward to me.  The room filled with a lavender scent and beautiful music played with a slight sound of birds chirping in the background.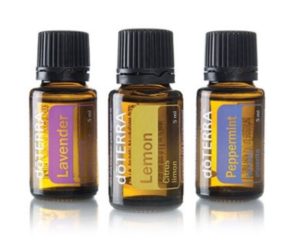 Usually — I bring my own essential oils with me so if I have a cold or my sinuses hurt — I can inhale my "Breath" blend and clear my head.  Or — to evoke calm and peace before my practice — I rub the "Peace" blend or a single oil in my hands and I am set to go.  This day — I didn't need them — because the instructor like me is an essential oil user.  When I told her I forgot mine — she gave me her "Hope" and "Forgiveness" blend to choose from.  In addition to the lavender scent in the room — I felt like I was in heaven!
And then there was the morning when my sinuses bothered me.  I had a busy day ahead of me so I decided to go to 5:30am yoga.  When I got to the studio — I inhaled an amazing aroma of peppermint.   I inhaled it in and immediately felt better.
I've always been interested in pleasing scents.  When I was a little girl, I use to play with my mother's perfume (my how times have changed — now I don't own any perfume because most of it contains toxins).  Living in Chicago, I frequented the Aromatherapy Workshop – and created my own scents — I even made one —  called "Christine".
Now — I am taking more time to learn about essential oils and their medicinal, healing and enhancing properties for our physical, emotional and spiritual well being — because there are so many healthy benefits to them.
What are essential oils and why do we use them?
Essential Oils do amazing things for our mental and physical wellbeing.
If you have ever enjoyed the scent of a rose or an orange, you've experienced the aromatic qualities of essential oils. "These naturally occurring, volatile aromatic compounds are found in the seeds, bark, stems, roots, flowers, and other parts of plants. They can be both beautifully and powerfully fragrant."
"Essential oils give plants their distinctive smells and essential oils protect plants and play a role in plant pollination. In addition to their intrinsic benefits to plants and their beautiful fragrance, essential oils have long been used for food preparation, beauty treatment, and health-care practices."  (Source: DoTerra)
They are so versatile!  The other day I used my peppermint essential oil to remove water stains from one of my favorite wood tables.
And, when my son Joe came down with a nasty cold — he loved the "Breath" and "On Guard" that I used on the bottom of his feet.
Essential oils can also be used topically to heal and/or give us a beautiful scent (no need for perfume!).
Essential oils can be used for a wide range of emotional and physical wellness applications.   We can diffuse them in the air to clear our homes and offices of stale air and leave a healthy scent.  I use them to change my mood — if I am feeling a bit sluggish I breath in peppermint or one of the blends to give me the boost I need.   Or sometimes when I am overwhelmed and finding it hard to focus, "ClaryCalm" does the trick. Or when my muscles are sore "Deep Blue" releases tension.  There are so many single and blends that can enhance and heal are health!
There are also SO many different companies producing essential oils it's challenging to find the right ones.  It's important to use oils that are 100% Certified Pure Therapeutic Grade. After trying oils from various companies, I've decided to use and provide my clients doTerra —  the world leader in sourcing, testing, manufacturing, and distributing CPTG® essential oils.  "doTERRA, the Latin derivative meaning "gift of the Earth," sets the standard for essential oils by providing to its customers the most tested and most trusted oils and having developed the expertise and commitment required to derive these unique oils directly from the best sources in the world. doTERRA Co-Impact Sourcing® provides local growers and distillers fair compensation for their efforts, creating stronger local economies and a healthier, stable supply chain."  (Source:  doTerra).
Are you looking to heal and/or enhance your well-being – your life.  Essential Oils may be for you!  They are definitely worth a try!  Contact me and I will set you up and add you to my "healthy hangouts" invite list:  christine@soletosoulcoaching.com