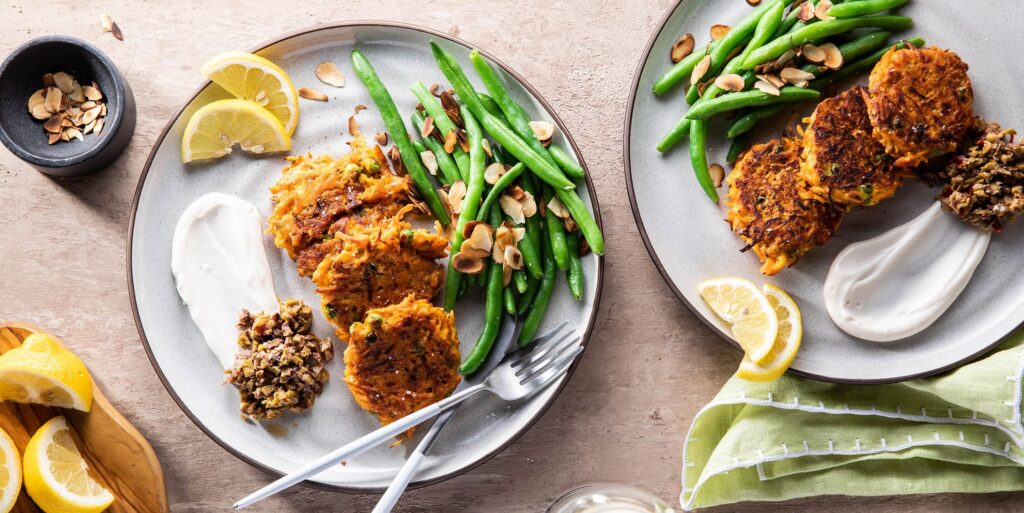 Carrot Socca Cakes with Green Beans Almandine and Olive Relish
INGREDIENTS:
1/4 oz Fresh Parsley (or a bunch)
2 garlic gloves
3/4 cup garbanzo bean flour
3 tbsp hemp seeds
4 carrots
1 – 2 lemon (s)
3 tbsp vegan mayo
4 oz roasted red peppers
1/4 cup Kalamata olives
1/4 cup sliced almonds
6 oz green beans
PREPARATION:
Pick and roughly chop the parsley leaves. Peel and mince the garlic. Added chopped parsley, just half the minced garlic, garbanzo bean flour hemp seeds, and 1/2 cup cold water to a large bowl and stir. Grate 2 cups of carrot using the large side of the box grater.
Add grated carrot and a pint of salt and pepper to the bowl with the batter. Mix the carrot soccer batter.
Halve the lemon, juice one halt and divide the other halve into wedges. Add the remaining minced garlic, just 2 tsp lemon juice, vegan mayo and a piece of salt to a small bowl. Stir the aioli well. Drain and chop the red peppers. Check the Kalamata olives, remove any pits and roughly chop the olives. Add just 1 tsp lemon juice chopped peppers and chopped olives to a medium bowl and still the olive relish.
Heat 1 tbsp olive oil in a large non-stick skillet (wipe the pan/oil with a paper towel to that there is no excess oil. Turn on medium heat and add 4-6 portions of the carrot sock batter to the skillet – eat about 1/4 cup. Flatten with the back of a spoon.
Cook the carrot soccer cakes, undisturbed, until crisp — 4-5 minutes each side Transfer when done to a town-lined plate and sprinkle with salt if desired.
Add the almonds to a small saucepan over medium heat Toast, shaking the pan frequently, until almonds are lightly toasted and fragrant, 2-3 minutes (watch so they don't burn). Transfer toasted almonds to a plate. Return saucepan to heat with a few inches of salted water – bring to a boil
Add the green beans to the boiling water and cook until crisp-tender – 2-3 minutes Drain the cooked beans and return them to the pot – off heat. Add the toasted almonds and a piece of salt and pepper. Divide the carrot soccer cakes and green beans almandine between plates. Drizzle with the aioli and serve with the olive relish and lemon wedges. MODIFIED FROM: PURPLE CARROT.